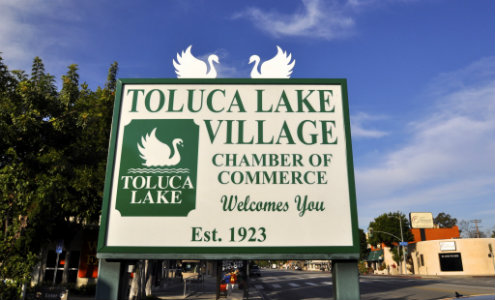 Located on the southeastern edge of the San Fernando Valley, this upscale bedroom community is close to everything Los Angeles County has to offer. Marked by tranquil, picturesque streets removed from the hustle and bustle of city life, this neighborhood offers fishing, swimming, and boating on Toluca Lake and abundant recreational opportunities in the surrounding Santa Monica Mountains. Adjacent to Burbank, media capitol of the world, as well as Hollywood, this is the natural choice for entertainment industry professionals. Luxury estates from 2000 to 20000 square feet can be found on large lots.
Six-acre Toluca Lake offers fishing, swimming, and boating. Nearby city parks have aquatics programs, tennis and volleyball courts, playgrounds, ball fields, youth activities, camps, and picnic areas. Golf courses for all playing abilities can be found in the area. The private Lakeside Golf Club wraps around Toluca Lake. The pedestrian-friendly Village of Toluca Lake has many specialty shops, coffeehouses, and boutiques that line the community's streets, offering easy access to goods and services and providing a place for neighbors to meet.
This community is adjacent to the City of Burbank, media capitol of the world, where many studios including Warner Brothers, Disney, and Nickelodeon are located. Toluca Lake is minutes from Downtown Los Angeles and Hollywood. Luxury Estates in this area range in size from 2000 to 20000 square feet on large parcels of land.
Thanks to the Toluca Lake City Guide.